Bonegasm: /bōnˌɡazəm/
noun
a climax of musical excitement, characterized by feelings of pleasure centered in the ears and experienced as an accompaniment to hearing a group of trombone players.
This is a project that I have wanted to put together for years. When I heard Alan Ferber's tune called North Rampart, it was so gorgeous I couldn't NOT play it. And I happen to be married to a damned fine writer and arranger who helped me get the ball rolling. I'm also surrounded by awesome musicians in New York City and a few of them agreed to write some more tunes.
I do hope you will be able to experience your first Bonegasm with us on Thursday, July 27 from 6-8pm at Silvana. It is our mission to bring peace, love, and trombone to the unsuspecting masses. Music by Robin Eubanks, John Fedchock, Alan Ferber, Sara Jacovino, Nate Mayland, Edward Perez and more!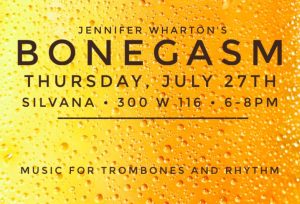 Bonegasm
Trombones: John Fedchock, Alan Ferber, Nate Mayland and Jennifer Wharton
Piano: Mike Eckroth
Bass: Evan Gregor
Drums: Don Peretz